Siri Dharma will be BACK in January of 2015, if you missed her recent five day visit in May 2014. Suncoast Pilates & Personal Training Studio was proud to have hosted workshops and privates and duets with Pilates Presenter extraordinaire Siri Dharma Galliano, trainer to the Hollywood stars. Siri is one of the leading Pilates trainers in North America and Europe. She is a renowned "New York Pilates" instructor with over 20 years of experience, she has trained actors on location in feature films such as "The Matrix 2," "The Matrix 3," "Batman," and the "Kill Bill" films. In addition to her studio and film work, Ms. Galliano has traveled the world helping to sculpt the bodies of celebrity clients such as Madonna, Sting, Uma Thurman, Cameron Diaz, Carrie-Anne Moss and Jessica Lange. 
 A protégé of Romana Kryza­nowska, the Master Pilates teacher who was trained by Joe Pilates, Ms. Galliano is also certified in Kundalini yoga by Yogi Bhajan. "She is a brilliant teacher", shared Ms. Kryza­nowska, and "one of my favorite people in the world".
Ms. Galliano's unique approach to fitness brings students an awareness of Pilates techniques and health traditions regardless of their age or physical condition. Her instruction incorporates a com­bination of focus, joy and a refreshing sense of humor. Famed for getting tangible results, she is one of the most sought-after experts on Pilates, and has been featured on television and in several major magazines, entertaining and informing audiences with her passion­ate views.
Regarding teaching Pilates workshops, Ms. Galliano states "people just become better teachers after a workshop. They see, touch, cue, and choose differently. They get inspired and love teaching more. It's about their bodies, and their clients, but the emphasis is always about a bigger picture, of the com­plete System; that Pilates is a system, not just the Reformer or Mat or Chair or Cadillac. The smaller things are important, the foot cor­rector and pedipole and armchair, especially for the older and injured population." She will be sharing Pilates training secrets used to train the stars as well as healthy and injured bodies.
In addition to her January 24 – 25, 2015, workshops Book NOW to work with Siri in a private or duet Thursday, Jan 22, Friday, Jan. 23, Mon, Jan 26 and Tues, Jan. 27.
Registration is NOW ONLINE for Siri's January 2015 workshops on Sat Jan. 24 and Jan. 25. Siri will also be teaching a very special hour and half Kundalini Yoga class while at Suncoast Sunday, Jan. 25, at 10am. Special fee $ 25 ($ 35 day of). Siri will also be teaching a special Classic Pilates Mat with Weights class for Pilates enthusiasts Monday, Jan. 26, at 6pm, for a special fee of $ 25 ($ 35 day of). REGISTER for all workshops and special Pilates Master Class and Kundalini Yoga Class.
ANNOUNCING – Accompanying Siri will be Pilates instructor Vil Shaynurov, a former Great Moscow circus performer and trick equestrian rider, who will be available for advanced Pilates session privates on the gymnastics of Pilates and advanced stretches, teaching an advanced Pilates Mat class and co-teaching some of the weekend's workshops. Deepen your Pilates practice and call or book online NOW to book private sessions with Vil for Thurs – Tuesday Jan. 22 – 27, 2015.. Prior advanced Pilates experience required to book with Vil. Vil will also be teaching a very special Classical Pilates Mat Class for Pilates enthusiasts on Thursday, Jan 22, from 6pm – 7:15pm for a special fee of $ 25 ($ 35 day of).
Classical Pilates Workshops with Siri and Vil will be held Saturday and Sunday, Jan. 24 and Jan. 25. Purchase BOTH workshop days for a package fee of $425 with 30 days prior registration – call studio to register for the two workshop day discount. Workshops days purchased separately will be $ 225 earlybird registration each day ($ 250 day of for each workshop day). Call or go online to sign up! REGISTER TODAY!
Saturday, 1/24/2015 - 11:00 am – 6:00 pm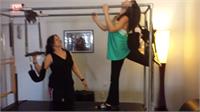 The Pilates System Workshop Day 1 (Saturday) with Siri and Vil – Starts at 11am with a Classic Pilates Mat warm-up (Siri), followed by Advancing on the Trapeze Table (Siri), including the Gymnastics of Pilates (Vil). The later afternoon will cover the Barrels, PediPole, Foot Corrector, Toe Corrector. Workshop 11am – 6pm with break and refreshments provided.
Sunday, 1/25/2015From: 12:00 pm – 6:00 pm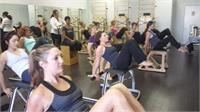 The Pilates System Workshop Day 2 (Sunday) with Siri and Vil – Starts at Noon with a short Classic Pilates Mat warm-up (Siri), followed by Advancing on the Reformer (Siri), Men's Exercises on the Pilates Equipment (Vil) and the Pilates Chairs (Vil and Siri). Workshop Noon – 6pm with break and refreshments provided.
Be sure of your commitment, as there are no refunds!
Workshop Dates